Florida's Suncoast is the west-central coastal region along the Gulf of Mexico that encompasses the Tampa Bay area with St. Petersburg and Clearwater along the coast. The Suncoast has been referred to as "Florida's Beach" as this beautiful stretch of white sand is well-known as the place to vacation for the perfect beach getaway.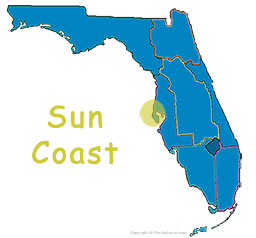 The more developed beaches such as St. Pete Beach, Treasure Island and Clearwater Beach, offer plenty of activities and beach fun, while the barrier islands such as Caladesi Island, Honeymoon Island, Egmont Key and Fort DeSoto Park offer every bit of nature that lets you enjoy the unique coastal untouched beauty of the region.
Popular activities in the area include boating, fishing, arts, museums, marine centers, and Busch Gardens.