You may not think Florida is the place where musicians come from, but we have our share!
Florida might not be known as a place where musicians are often discovered, but many of Florida's cities have thriving music scenes. Many famous musicians of various genres had their start in Florida. Here is a comprehensive list of the most well known musicians both past and present.
Ray Charles
Music legend Ray Charles was born in Georgia in 1930, but he moved to Greenville, Florida with his mother when he was just a baby. He began to learn music from a local café owner, Wylie Pitman, who taught him to play the piano. He began attending Florida School for the Deaf and the Blind in St. Augustine when he was about seven-years-old where he continued his musical education. He also lived in Jacksonville, Orlando, and Tampa before leaving the state to pursue a career in music. The house Charles grew up in has been designated a historic place and the street it's located on was renamed Ray Charles Avenue in his honor. There's also a statue of Charles in Greenville.
Ariana Grande
Pop singer and actress Ariana Grande was born in Boca Raton, Florida. She began performing early in life at the Fort Lauderdale Children's Theater and her talent was recognized right away. This led to her booking lots of performance gigs as a child. Her first television appearance was singing the National Anthem at a Florida Panthers game. She left Florida to pursue her career when she received her first Broadway role at the age of 15.
Underoath
Underoath is a rock band formed in Tampa, Florida. The two founding members, Dallas Taylor and Luke Morton formed the band in Ocala, Taylor's birth place, but the full band came together in Tampa, making them possibly Tampa's most famous musical act.
Rick Ross
Rick Ross is a rapper originally from Mississippi, but was raised in Carol City, Florida, a city that has been the origin place of many of Miami's rappers. The state of Florida has been featured in lots of Rick Ross's music.
Dashboard Confessional
Dashboard Confessional is a rock band that got its start in Boca Raton, Florida. The band was brought together by lead singer, Chris Carrabba, who moved to Boca Raton with his family when he was 16. He started the band while attending college at Florida Atlantic University and went on to teach special education students at a local South Florida elementary school before his music career took off.
Jason Derulo
Pop singer Jason Derulo is a current chart topper in Hollywood, but he got his start right here in Florida. He was born in Miami in 1989 and attended performing art school where he studied music. In mid-2015 he sold his 3 million dollar Coconut Creek mansion, but prior to that he lived in Florida part time and worked on his music in the home's recording studio.
Diplo
DJ and Record producer Diplo was born in Mississippi, but spent the majority of his childhood in Miami where he was very influenced by the signature hip hop sound of the area, Miami bass. He began his career as a DJ while attending the University of Central Florida, working for the station WPRK. His debut solo album, released in 2004, was named Florida.
Sam & Dave
Sam & Dave was the collaboration of soul and R&B duo Sam Moore and Dave Prater. They were active between 1961 and 1981. Only Moore was born in Florida, growing up in Miami. Prater was born in Georgia, but he met Moore in Miami and it was there that they formed the duo that would one day win a Grammy award and be inducted into the Rock and Roll Hall of Fame, the Vocal Group Hall of Fame, the Memphis Music Hall of Fame, and the Rhythm & Blues Music Hall of Fame.
Camila Cabello
Pop artist Camila Cabello was actually born in Cuba and spent her early childhood traveling between Cuba and Mexico City. Her family moved to Miami when she was 5 and she spent the rest of her childhood there. She rose to prominence after auditioning for The X Factor and becoming a member of the group 5th Harmony. She left the band to become a solo artist in 2016. Some sources list 5th Harmony as a group from Florida because Lauren Jauregui is also from Miami.
Jim Morrison
Morrison was the lead singer of the Doors, and is widely considered to be one of the best frontmen of all time before his tragically early death at the age of 27. He was born in Melbourne, Florida in 1943, but his family moved often throughout his childhood due to his father's career in the Navy. He was only there for a few short years, but that hasn't stopped his childhood home from becoming a bit of a local legend. Morrison returned to Florida after high school to take a few classes at Florida State University, but that didn't stick for very long either.
Flo Rida
Okay, so this one's pretty obvious, but he's worth mentioning anyway. Rapper Flo Rida, also known as Tramar Lacel Dillard, was born in Carol City, Florida. He was signed to independent Miami-based record label Poe Boy Entertainment in 2006. He took inspiration from his home when creating his stage name.
Yellowcard
Rock band Yellowcard formed in Jacksonville when the members met attending high school at Douglas Anderson School of the Arts. Some of the original members also attended Florida State University. They were signed in 2000 after recording an EP at a local Jacksonville recording studio.
Shinedown
The rock band Shinedown was founded by frontman Brent Smith in Jacksonville, Florida. Smith was not from Florida himself, but he moved to Jacksonville after his former band, Dreve, was released from their record deal with Atlantic Records. The record company wanted to keep Smith if he started a new band, so he went to Jacksonville to do just that and found the rest of the band's members there.
T-Pain
Rapper T-Pain was born and raised in Tallahassee, Florida. He chose his stage name as a shortened version of Tallahassee Pain. He was discovered by the singer Akon after recording a cover of his song "Locked Up".
New Found Glory
New Found Glory is a rock band that formed in Coral Springs, Florida while the original members were attending high school there. They quickly found underground success in Florida and began touring the east coast before being signed by Drive-Through Records.
Gloria Estefan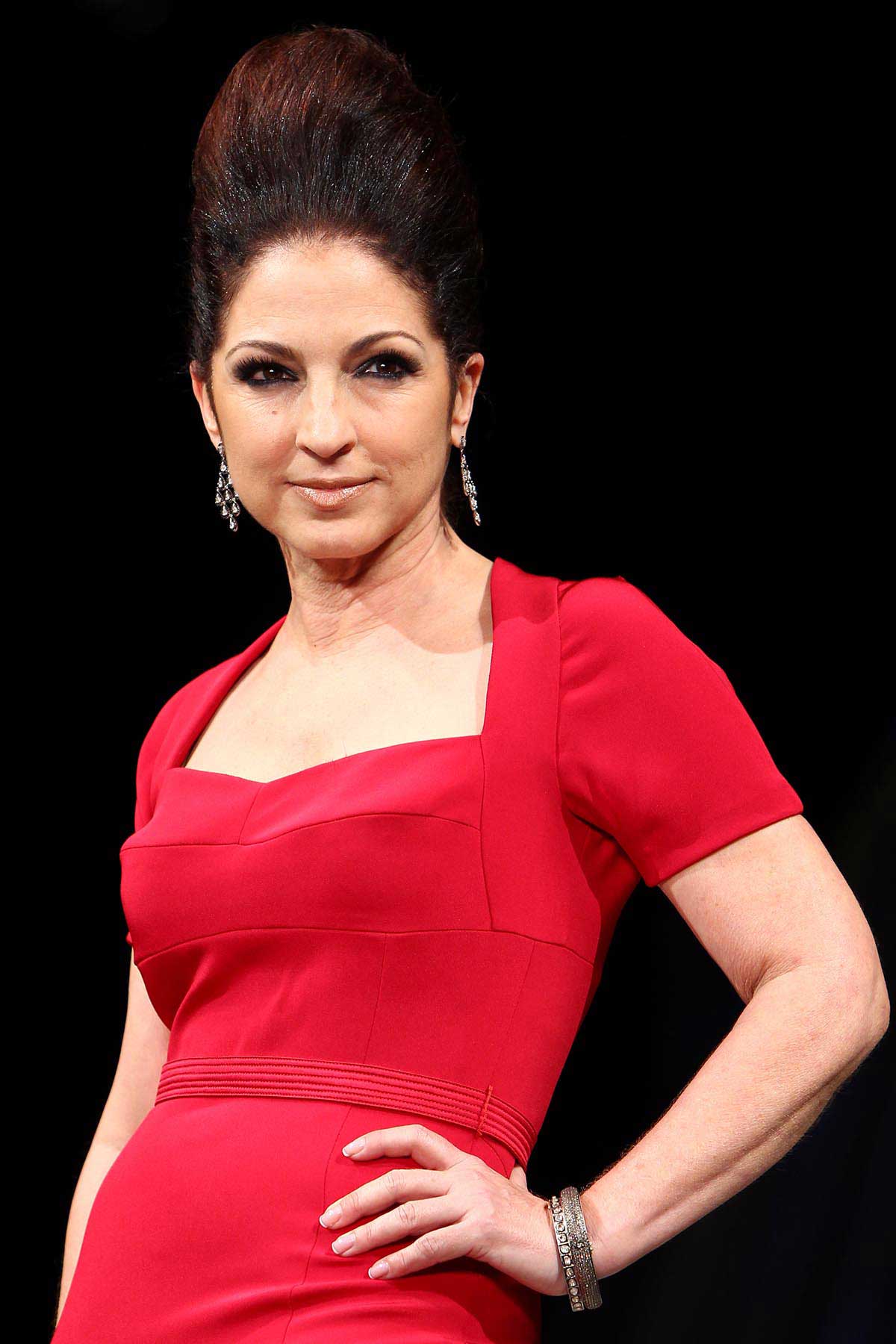 Latin Pop artist Gloria Estefan was born in Cuba in 1957, but her family moved to Miami, Florida when she was young. She graduated from the University of Miami with a BA in Psychology. Eventually she became the lead singer of Miami Sound Machine who were signed to Discos CBS International. After many years fronting the band she went on to become a successful solo artist. Now-a-days, she and her husband Emilio Estefan run a company that owns and operates lots of Florida businesses including several restaurants and 2 hotels.
Creed
The rock band Creed was founded in Tallahassee, Florida in 1995. Founding members Scott Stapp and Mark Tremonti went to high school together and later both attended Florida State University. The recruited the rest of the band through auditions and began playing local shows together. In the beginning of their career, they mostly gained popularity around the state of Florida, but eventually were signed to Wind-Up Records and became national.
Jake Owen
Jake Owen is a country singer born in Winter Haven, Florida. He attended high school in Vero Beach and went to college at Florida State University. He started his career as a professional golfer when he was still in high school, but when an injury ended that career he learned how to play the guitar and moved to Nashville to pursue music.
Cassadee Pope
Cassadee Pope is a musician from West Palm Beach, Florida. She began here career as the lead singer of the rock band Hey Monday, which formed in Wellington, Florida. The band disbanded in 2011, and Pope went on to start a solo career. She became the first female winner of The Voice in 2012 and launched her career as a country singer.
Vanilla Ice
Vanilla Ice is a rapper mostly known for his success in the 1990s. He was born in Texas, but spent much of his life splitting time between Dallas and Miami, Florida. It was in Miami that he discovered his love for hip hop and met many of the people who influenced his career. His most famous song, "Ice, Ice Baby" takes place in Miami with lyrics like "Miami's on the scene just in case you didn't know it. My town, that created all the bass sound", a reference to the Miami bass style that was dominating South Florida's hip hop scene at the time. Now-a-days Vanilla Ice hosts a South Florida-based home renovation show: The Vanilla Ice Project.
Mandy Moore
Pop artist Mandy Moore was born in New Hampshire but grew up in Sanford, Florida. She was very involved in Orlando's music scene, performing in local musicals and singing the national anthem at events. She was discovered as a teenager when she was singing in an Orlando recording studio and a FedEx delivery man who happened to have a friend who worked at Epic Records heard her singing and sent her demo to his friend. She was signed to the label shortly after that.
The Allman Brothers Band
The Allman Brothers Band formed in Jacksonville, Florida in 1969. The brothers themselves, Duane and Gregg, were born in Daytona Beach. They moved to Jacksonville after spending some time pursuing their own music careers elsewhere, and it was then that the final band was formed. The house where the band first played together in Jacksonville is now marked with a historical marker.
Tenth Avenue North
Contemporary Christian music band, Tenth Avenue North got its start in West Palm Beach while the members were attending Palm Beach Atlantic University. The name of the band comes from the name of a street near their university.
Marilyn Manson
Marilyn Manson is one of the most well-known metal bands. The lead singer by the same name was born and raised in Ohio, but moved to Florida with his parents after high school to attend Broward Community College in Fort Lauderdale. It was here that the band was formed and gained popularity.
Enrique Iglesias
Latin pop singer Enrique Iglesias was born in Madrid, Spain to famous Spanish singer, Julio Iglesias. At the age of 6, he moved to Miami, Florida to live with his father while his mother remained in Spain. He was mostly raised by his nanny in Miami. Before starting his music career, he briefly studied business at the University of Miami.
Pitbull
Pitbull was born in Miami to Cuban-American parents in 1981. He performs hip hop music, but he was very inspired by Cuban music and the Miami Bass style that was popular in South Florida in the 80s and 90s. He met Lil John when the rapper was visiting Miami which led to his first collaboration with a famous rapper.
Florida Georgia Line
Country music duo Florida Georgia line is half Floridian, as the name suggests. One member, Tyler Hubbard, is from Georgia, and the other, Brian Kelley, is from Ormond Beach, Florida. Kelley went on to attend Florida State University on a baseball scholarship. It was upon transferring to Belmont University in Nashville that he met Hubbard and Florida Georgia Line was born.
Casting Crowns
Casting Crowns is a Christian rock band formed in Daytona Beach. The band was formed by youth pastor Mark Hall as a student worship band at the First Baptist Church in Downtown Daytona Beach.
We The Kings
We The Kings is a rock band originally from Bradenton, Florida. The 4 original members of the band were friends from childhood. They named their band after the middle school they all attended: Martha B. King Middle School.
Less Than Jake
Less Than Jake is a ska punk band formed in Florida. The first iteration of the band was formed by friends attending high school together in Port Charlotte, Florida. Later, some of the members of that original band would go to college at the University of Florida, and it was there that Less Than Jake came to be.
Tom Petty
Singer-Songwriter and front man Tom Petty got his start in Gainesville, Florida. His love of music was sparked by meeting Elvis Presley, who was shooting a movie in Ocala, when he was 10-years old. He was a part of several bands while he was young and performed solo, but he didn't find mainstream success until he formed the band Tom Petty and the Heartbreakers with other local musicians. Later he went on to form the Traveling Wilbury's with artists from other popular bands and release 3 albums as an independent artist. After Petty's death is 2017, a historical marker was put up in the neighborhood he grew up in and a nearby park was named after him.
Limp Bizkit
Limp Bizkit is a rap rock band from Jacksonville, Florida. In the beginning of the band's career, they had a very dedicated cult following locally in the underground music scene. They were discovered after meeting the band Korn and being added to their tour.
The Dollyrots
The Dollyrots is a punk rock band composed of husband/wife duo Luis Cabezas and Kelly Ogden. Both members are from Florida. They met in 8th grade attending school in Land O' Lakes, Florida. They would later go to New College of Florida together, where they started their first band.
The Bellamy Brothers
The Bellamy Brothers is a country duo most known for their success in the 70s and 80s. The brothers, David and Howard, were born in Darby, Florida. In 2018, the brothers became stars of a show called Honky Tonk Ranch, which showcases their rural Pasco County home.
Against Me!
Punk rock band Against Me! was formed by lead singer Laura Jane Grace in Gainesville in 1997. Grace was born in Georgia, but moved around a lot as a child because of her father's military career. She moved to Naples, Florida with her mother when she was 12-years-old after her parents divorced. The band was formed after she moved to Gainesville at age 17.
Lynyrd Skynyrd
During the 1970s Jacksonville, Florida had a thriving southern rock music scene which eventually birthed the band that popularized Southern Hard-Rock: Lynyrd Skynyrd. All of the original members of the band grew up in Jacksonville. They became a very popular band in Jacksonville in the early 70s before being signed by MCA Records.
KC and the Sunshine Band
Disco Funk band KC and the Sunshine Band were formed in 1973 in Hialeah, Florida. The "Sunshine" band is named after the "Sunshine" State. Harry Wayne Casey (KC), the leader of the band, worked part time at TK Records, where many of the other musicians also worked, and that is how the band came together.
Sleeping with Sirens
Rock band Sleeping with Sirens formed in Orlando, Florida in 2009. They were formed with members from two previous Florida bands: For All We Know and Paddock Park.
Stephen Stills
Stephen Stills is a guitarist best known for his work with Buffalo Springfield and Crosby, Stills & Nash. He lived in many places as child, including Gainesville and Tampa, but he is particularly fond of the part of his childhood spent in Gainesville. He would return to the city to briefly attend college at the University of Florida and then again in 2004 when he bought a house there after a successful career.
Matchbox Twenty
Pop rock band Matchbox Twenty started out in Orlando, Florida. They first formed a band known as Tabitha's Secret which was a successful band in Orlando's music scene. Eventually they lost a couple of members and became Matchbox Twenty in the mid-90s.
Backstreet Boys and N'SYNC
The Backstreet Boys and N'SYNC are included together because they were both groups formed in Orlando by producer Lou Perlman. Perlman was inspired to work in the music industry because of his cousin, Art Garfunkel. He believed boy bands would be a great way to achieve success, so he started a talent search in Orlando that led him to the boys who would later become the Backstreet Boys. He repeated this a few years later to form N'SYNC. It's probably worth noting that while both bands were formed in Orlando, not all of N'SYNC's members are from Florida (Justin Timberlake, for instance, is from Memphis). Aaron Carter, younger brother of Backstreet Boys member Nick Carter, is also from Florida, born in Tampa.
Trick Daddy
Trick Daddy is a rapper who was born in the Miami neighborhood, Liberty City. In addition to a successful music career he has also done some acting and he appeared on the reality series Love and Hip Hop: Miami in 2018.
Trina
Trina is a rap artist often credited as one of the most influential female rap artists in the industry. Like Trick Daddy, she is from Liberty City in Miami, and it was appearing on his track "Nann Nigga", that her career was kickstarted. She has also starred on the reality television series Love & Hip Hop: Miami.
A Day to Remember
A Day to Remember is a rock band with metalcore and pop punk influence. They formed in Ocala, Florida and began their career playing the local music scene.
The Outlaws
The Outlaws were a southern rock band formed in Tampa, Florida in 1967. The original guitar trio of the band was called "the Florida Guitar Army".
Florida Heavy Metal Bands
Florida has been an incredibly influential state when it comes to metal music, especially death metal, which was mostly invented here. Metal bands from Florida include: Death, Morbid Angel, Deicide, Obituary, Atheist, Hate Eternal, Monstrosity, Nocturnus, Kamelot, Iced Earth, Nonpoint, Cynic, Trans-Siberian Orchestra, Floor, Assück, Shai Hulud, Malevolent Creation, and Poison the Well.
South Florida Rappers
Right now, a movement of young rappers has swept through South Florida. Many of these artists gained prominence by putting their music on SoundCloud while still attending high school. Some of the artists include: Kodak Black, XXXTentacion, Ski Mask the Slump God, Denzel Curry, SpaceGhostPurrp, Smokepurpp, and Lil Pump.